Skip to main content
Orion's Complete Wealth Management Platform
A full-service advisor technology and investment management solution powering independence, autonomy and choice.
The Future is Fiduciary
Orion's enterprise platform empowers Broker-Dealers, Banks, and Custodians to better compete in an evolving advisory environment. Here's how: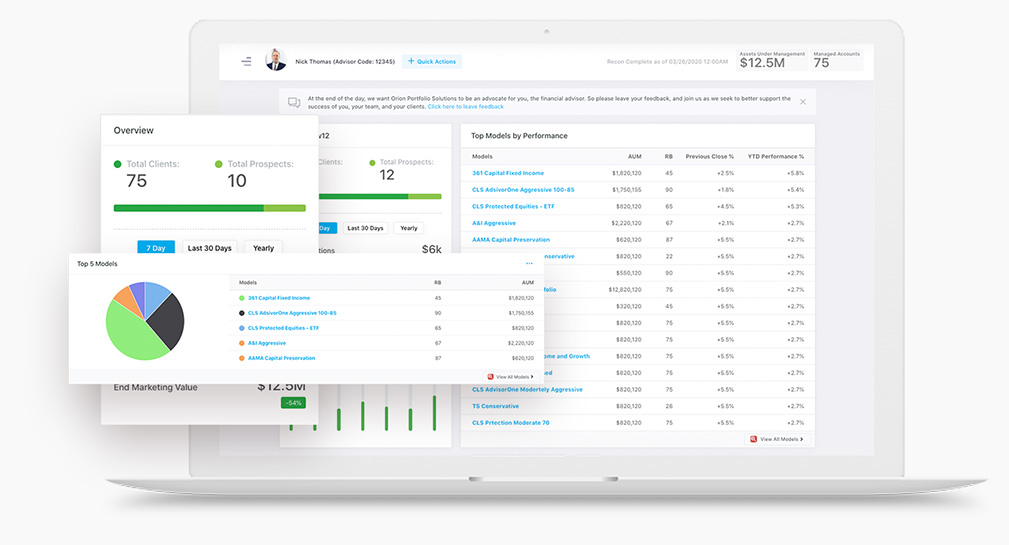 Start With Our Core Tech
Delivered through an intuitive advisor portal, our highly configurable capabilities are designed to become, or work in harmony with, your existing advisor tech stack, and built to support all phases within the advisor/client journey, including:
Risk Scoring & Financial Planning
Proposal Generation & New Account Opening
Trading, Rebalancing, & Order Management
Portfolio Accounting & Reconciliation
Performance Reporting
Client Experience
Supervision Data & Dashboards
Billing
Business Intelligence
API Library
Tap Into a Range of Investment Programs
Providing both flexibility and oversight, Orion enables you to consolidate investment management programs into a single platform without limiting your advisors' ability to control which model works best for their business and clients:
Strategy and Model Marketplace

Investment Selection and Model Construction

Investment Due Diligence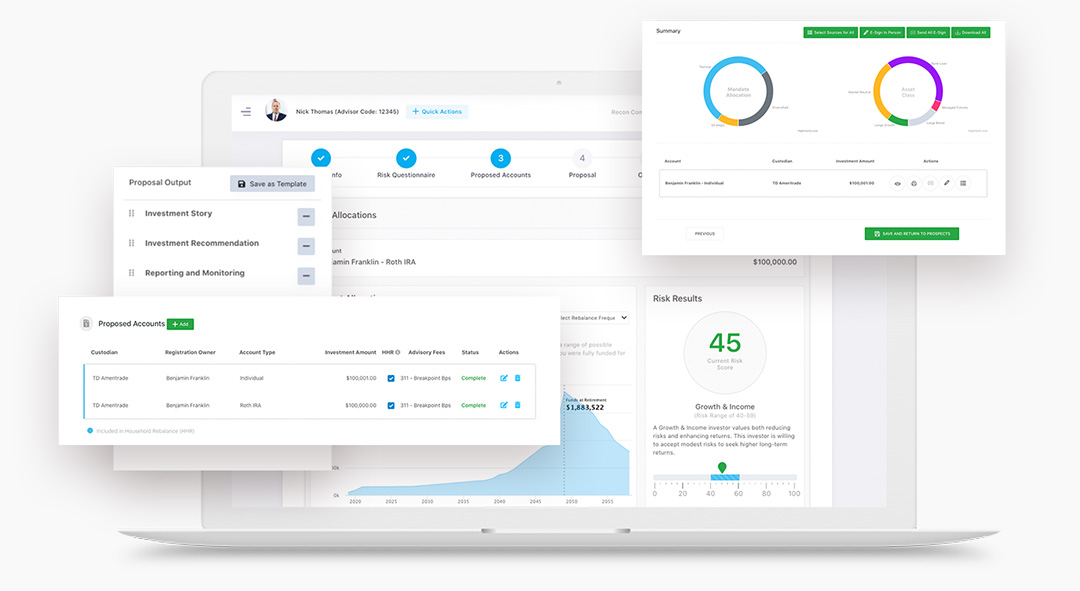 Lean on our Team to Tackle Operational Tasks
Power a more consistent and competitive client experience, improve advisor productivity and increase margins with on-demand execution of mission-critical back-office tasks, including:
Portfolio Trading, Rebalancing, and Trade Execution to Custodian (FSP, UMA, SMA)

Quarterly or Monthly Client Statement Generation

Full Billing Administration

New Account Opening Assistance

Technology Training and Training Content Development
Is Orion Enterprise the Right Solution for You?
No matter your organization's goal, we have the insight to understand and anticipate your needs, and can customize your platform and service experience to help you achieve results.

Attract & Retain Advisors
Embrace The Advisory Model
Provide advisors with more flexibility and choice without disrupting what's already working, by plugging Orion's tech and investment solutions into your infrastructure and leveraging your existing custodial relationships.
Centralize & Streamline Operations
Scale with Certainty
Centralize multiple selling agreements, address internal resource constraints, and maintain your firm's productivity with a flexible investment platform and on-demand operational outsourcing.

Drive Organic Growth
Upgrade Your Provider Experience
Experience your firm's full growth potential with a technology and investment experience configured to meet your specific and complex Enterprise needs, developed by the independent advisor industry's most reliable and trusted partner.
Ready to Raise the Bar?

Unlock your firm's full potential with Orion Enterprise.
2277-OAT-8/13/2021